2014 Véronic DiCaire Open
Official host of the 2014 Open
The DEVCORE Group, a construction and property management company, is the official host of the 2014 Open.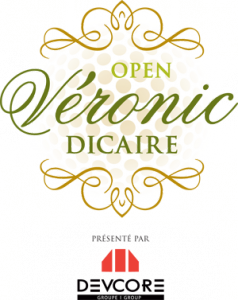 The Véronic DiCaire Open will enable your quartet to be treated as VIP during the entire special event. The Véronic DiCaire Open includes a full day of golf, gifts, a cocktail reception and a gourmet dinner, as well as an exclusive performance by Véronic in the evening.
After only three years, the Véronic DiCaire Open has become the "must be there" tournament in the National Capital Region. If a business should have to select only one golf tournament during the year to host its special customers, then the Véronic DiCaire Open is the dream opportunity.
Once again, the Open is a sold-out event. We're sorry, but everything was booked solid by February 15, five months before the actual Open. All profits from the 2014 Véronic DiCaire Open will go to her Foundation, of which $10,000 will be awarded through the Véronic DiCaire Scholarship to two students from the La Cité College. For your information, the first three Véronic DiCaire Open provided $210,600 to the Fondation de La Cité and the Véronic DiCaire Foundation benefited from $91,000.
The 2014 Véronic DiCaire Open will take place on Monday, July 14, at the Le Mirage golf club in Terrebonne, Quebec. This private club, owned by Céline Dion and René Angélil, is considered one of the most prestigious five-star 36-hole golf club in the country and is a real Canadian jewel.
The organizing team of the 2014 Véronic DiCaire Open
Rachel Gauthier (president and programming)
Rhéal Leroux (finances, programming and sponsorships)
Véronic DiCaire (programming consultant)
Rémon Boulerice (evening show and sponsorships)
Brigitte Pépin (assistant to the president and sponsor hosting)
Huguette Boulerice (in charge of volunteers)
Sandra Rossi (media relations)
Vicky Boulerice (photo-souvenir)
Mark Kelly (signage and sponsorships)
Bernard De Grâce (sponsorships)
Jean-Pierre Poulin (presenter and sponsorships)
Michel Tremblay (Arizona course supervisor)
Bernard (junior) Boulerice (Carolina course supervisor)
Jean-Maurice Filion (writing editing)
Estelle Patenaude (printing)
Adam Beaulne (Web site)
Judith Gauthier (photographer)
Linda Dicaire (decorator)
Serge Lavallée (accountant)
Isabelle Paris et Michel Therien (Beavertail stands)
Nathalie et Chantale Deslauriers (hairdressers)
Daniel Lafleur (sponsorships)
And the 30 other volunteers on duty the day of the OPEN.