2013 Open
Prestigious event
Various cultural and sports personalities happily joined 296 golfers, including 40 business partners, for a day of golf, great food, gifts, as each golfer received a new pair of golf shoes. As well, Véronic provided an evening of entertainment with a selection of impersonations to close her third open, held on July 15, 2013, at the prestigious Club de golf Le Mirage for a second year in a row.
In all, $102,600 was raised that day, with $56,300 going to the Fondation de La Cité.
A number of distinguished guests were on hand, including broadcaster and actor Charles Lafortune, singer Boom Desjardins, Acadian singer Wilfred LeBouthillier, comedian Patrice Bélanger, broadcaster and actress Marina Orsini, former Québec Nordiques and New York Rangers coach Michel Bergeron, former football player Étienne Boulay, singer Louis-Jean Cormier from the musical group Karkwa and judge and choreographer Jean-Marc Généreux, from CTV's So you think you can dance.
In the evening, Véronic DiCaire showcased a medley of selected songs from her new Las Vegas show Véronic Voices. For a second year in a row, the 400 guests at the gala gourmet dinner were caught by surprise with four contestants from the successful La Voix television series each singing a song. Charlotte Cardin-Goyer, Andie Duquette, Étienne Coton and Étienne Cousineau were introduced by Charles Lafortune, who had hosted the popular series. At the end, Véronic and her friend Étienne Cousineau offered their unique rendering of Gerry Boulet's powerful L'hymne à l'amour.
Photo album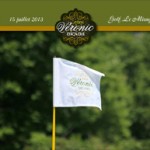 Support our deserving sponsors
Organizing committee
Rachel Gauthier, president
Véronic DiCaire
Huguette Boulerice
Linda Dicaire
Lise Bourgeois
Lucie Ménard
Hélène Grand-Maître
Finance committee
Rhéal Leroux, president
Rémon Boulerice
Daniel Lafleur
France St-Pierre
Mona Fortier
Serge Lavallée
Bernard DeGrâce
Message from Véronic
"Thank you to my two accomplices for the Open, the "Double RR team" of Rachel and Rhéal for this perfectly accomplished day; another open full of surprises and magic. Thank you to all the volunteers. I am so happy to rely on such a great team. I am so proud of my Open."