2012 Open
A surprise visit
Have you seen the two Véronic DiCaire Open buses on the road?
The 2012 Véronic DiCaire Open was held at the prestigious Club de golf Le Mirage, co-owned by René Angélil and Céline Dion, in Terrebonne. A total of 288 golfers, including many cultural and sports celebrities, played on Monday, July 16, and contributed more than $97,000 for the philanthropic initiatives of the Fondation Véronic DiCaire and the Fondation de La Cité collégiale. Of note, a third of the 300 players were women.
Sports and cultural personalities were on hand all day, including Roch Voisine, Boom Desjardins, Patrice Bélanger, Wilfred LeBouthillier, hockey stars Daniel Brière and Claude Giroux, from the Philadelphia Flyers, and Francis Wathier, from the Dallas Stars, as well as Olympic medallist Bruny Surin.
"I was envious of hockey players such as Daniel Brière, who hold their own golf tournament in order to give back to their communities. In fact, I was wondering if I should start playing hockey to have a tournament!" — Véronic DiCaire
But the big surprise of the day was the unexpected arrival (for the participants) of the great lady of Quebec song Ginette Reno. She and Véronic sang a few songs for the enjoyment of the 350 persons attending the evening event.
N.B.: Here are some pictures of Ginette and Véronic.
Photo album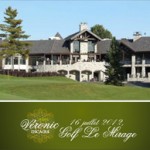 Organizing committee
Rachel Gauthier, president
Véronic DiCaire
Huguette Boulerice
Linda Dicaire
Lise Bourgeois
Lucie Ménard
Hélène Grand-Maître
Bernadette Sarazin
Finance committee
Rhéal Leroux, president
Rémon Boulerice
Daniel Lafleur
Luc Lapensée
Bernard Boulerice
Jean-Charles Moncion
Bernard DeGrâce