Open 2015
The VDF announces to all golfers that the Véronic DiCaire Open will not take place in July 2015.
Thank you to all those who have taken part and made possible the success of the previous four opens and a very special thank you to the sponsors who made it possible to offer such high caliber events.
Because of generous supporters and events organized by the VDF, no less than $300,000 was collected in less than three years.
Through the VDF Canada, the VDF Europe was set up and will be based in Geneva, under the chairmanship of Thierry Lavalley, general manager of the Grand Hotel Kempinski Geneva.
The VDF would like to thank one of its most important contributors, Serge Lavallée, who is leaving the Foundation's board of directors after three years of dedicated services. Serge was instrumental in setting up the Foundation, both as its treasurer and financial advisor.
Submissions and request for funds to the VDF.
Because of prior commitments for 2014 and 2015, the VDF will not accept new projects until the winter of 2016. (Details at a later date)
Already two years…
Exactly two years after the Véronic DiCaire Foundation was set up, funds collected already total $225,000.
Michel Bergeron agreed to be the honorary president of the 2014 Véronic DiCaire Open
Be with us at the Véronic DiCaire Open at Terrebonne's Le Mirage Golf Club, Monday, July 14, 2014.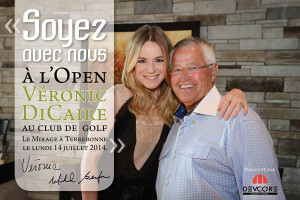 4th Véronic DiCaire Open
The 4th Véronic DiCaire Open will be played on Monday, July 14, 2014, at the Le Mirage golf club in Terrebonne, Québec.
Véronic DiCaire – Grand V
The Véronic DiCaire Foundation invites you to a one-hour TV documentary on the Radio-Canada French network. "Véronic DiCaire – Grand V" (Véronic DiCaire with a capital V) looks at Véronic's career from her early years in Embrun in Eastern Ontario to the international scene. The French language program airs on Monday, December 9, 2013 at 9:00 p.m.
VÉRONIC 01 Ottawa-Las Vegas
At least 154 fans will be on board VÉRONIC 01 Ottawa-Las Vegas (chartered plane) on November 14. Some seats are still available, but you must act quickly. Contact Carole at 613‑789‑4816.